OVERVIEW: HODGDON TRAIL BOSS SMOKELESS POWDER
Every bottle of Hodgdon Smokeless Powder is guaranteed by a century of manufacturing expertise and the industry's most stringent quality control processes. To maintain uniformity, the chemical composition, grain shape and size, and overall density are continually verified and evaluated in a ballistics lab. Please visit this link for further information on this Hodgdon Trail Boss Powder For Sale load data.  You might check out this other Hodgdon Powder if this one doesn't suit your requirements or interests.
Hodgdon Trail Boss was originally an IMR powder, but it is currently sold under the Hodgdon name. It was developed particularly for low-velocity lead bullets that are appropriate for cowboy action shooting. It is typically used in pistols but may also be used in rifles in certain circumstances.
Hodgdon Trail Boss is built on a completely new technological platform that enables extremely high loading density, excellent flow through powder measures, stability in severe temperature change, and most significantly, improved safety for the handloader.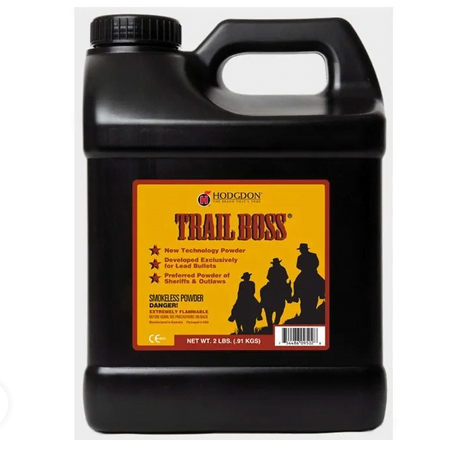 Important Information:
Specifications and Features:
Hodgdon TB Powder is specifically developed for use with low-velocity lead bullets.
Cowboy Action shooting–appropriate.
Moreover, certain rifle loads may be made using versatile powder.
Extremely high capacity per unit area
Hodgdon TB Powder accuracy relies on the powder having good flow through it.
Maintaining its integrity through extreme temperature shifts